curved soprano & prepared alto saxophones, objects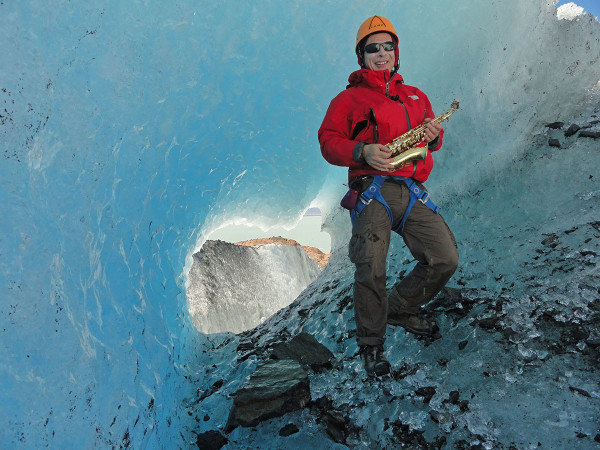 Claudio Lugo (1954) is a composer, conductor and performer who studied music composition with Sylvano Bussotti at the School of Music of Fiesole.
He is Professor at the Conservatory of Alessandria (Courses of "Saxophone", "Improvisation" and "New Notations for Voice) and Professor at University of Genova (D.A.M.S Discipline of Art, Music and Show). He is also currently teaching Improvisation's Techniques for Music Therapy Courses of APIM and for the Italian Summer Programs of New York University. Lugo has won various awards for music composition such as Premio De Paoli, Concorso di Barga Jazz, Premio Traiettorie Sonore di Como, Concorso Internazionale Franco Evangelisti. He has received several commissions from important musical institutions; among these, in 1991 "operaSogno", a musical theatre work by William Shakespeare, opened La Biennale Musica of Venice. He has been the Artistic Director and Main Conductor of Piccola Orchestra Meridiana, Italian Jazz Orchestra of AMJ and Ensemble Dissonanzen of Naples.
As creator and leader of Impressive Ensemble, he has collaborated with various important italian visual artists such as Roberto Masotti, Roberto Merani and Federico Palerma. He has worked with well known improvisers as Joe Henderson, Dave Liebman, Kenny Wheeler, Richard Beirach, John Surman, Louis Sclavis, Yves Robert, Markus Stokhausen, Alvin Curran, Michel Godard, Don Moye. Claudio Lugo's works have been broadcasted on several occasions by RAI-Radio3. He has also written articles and edited chapters for major musical publications. In addition to this, he has released CDs for Mode Records, Itinera and Amirani Records.
Since 2010 Lugo is running a research project (Playing for Elves / Instant Composer Secluded Setting Tour) based on recording impromptu performance in some naturalistic and relevant places around the world. Iceland, Greenland, Denmark, Patagonia and Tierra del Fuego, Morocco, Mongolia, Namibia, Lapland, Balkan mountains, Costa Rica, Nicaragua and Italy are the Countries reached so far.
photo: "Glaciar Viedma, Patagonia"